Our History
---
When you have good news you are anxious to share it with everyone you meet. That is how it is at 55 N. 3rd St. in Bangor. We've been here for 149 years in three different buildings. We started as an itinerant church on the Chapman's Quarry circuit in 1869. Our diverse, growing flock required a permanent building that was dedicated in 1874. Still growing, a second church was built in 1891. The town grew and so did we, building our present facility in 1930.
But that is only part of the story – the brick and mortar part. The really good news is we love the Lord and love to tell his stories; especially how he loved us before we ever knew him!
Please come and share the Good News.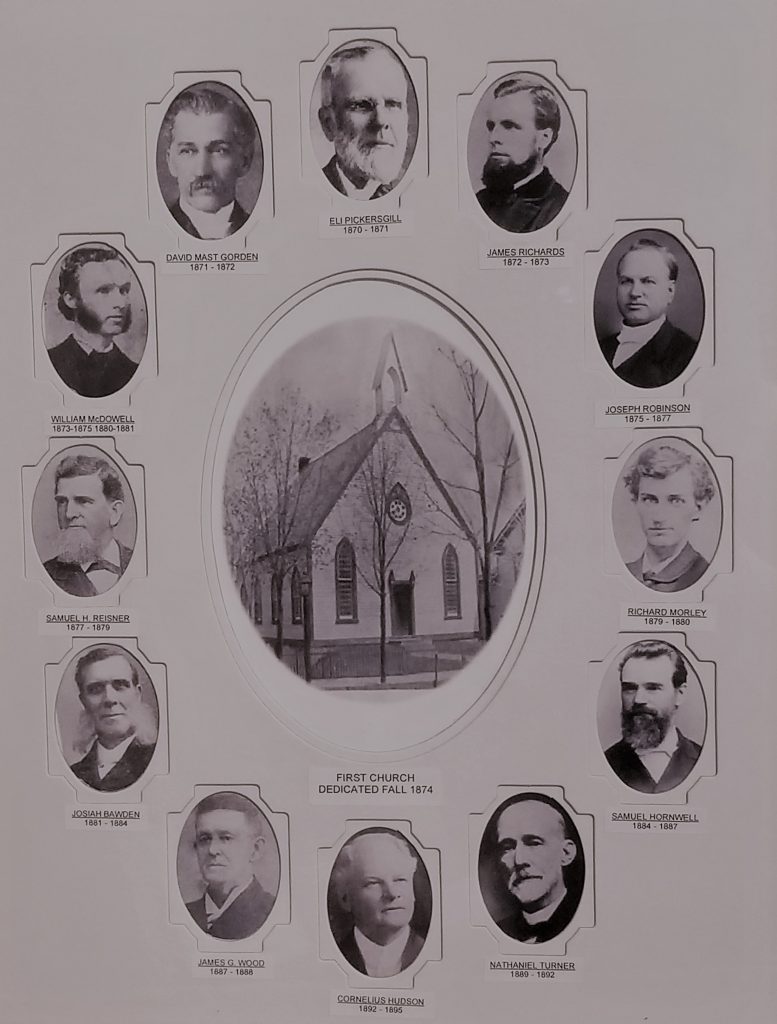 ---
Welsh Heritage
Our church, the First United Methodist Church, is one of the few surviving Welsh Wesleyan Methodist churches in the country. The church's Welsh connection comes from the Shiloh Welsh Wesleyan Church which merged with the First United Methodist Church in 1946. Shiloh was constructed from 1890-91 and its first service was held on August 16, 1891. First Methodist and Shiloh shared their minister, Rev. Car Hammerly, from 1939 to 1942.
In 1967 the First Methodist's chapel was renamed Shiloh Chapel. The pulpit of marbleized slate from the Welsh church was placed in the chapel with refurbished furniture from the former church.
---
If you look at the Image below – Beginning clockwise: (1) winter view of the cathedral and Bible Garden from the northeast; (2) illuminated manuscript plate from the Bangor Pontifical, circa 1310; (3) the Nave Altar and High Altar looking east with rood screen designed by Oldrid Scott and rood by Alban Caroe; (4) Christ the King, one of the statues with Flemish origin thrown-out in the 17th century, found and restored in 1964; (5) early 15th century octagonal font with the arms of the See of Bangor; (6) copy of the Architectural History of the Cathedral, with a graphic scale indicating growth throughout the centuries of time; (7) overlapped view of the interior arches; (8) the earliest stained-glass window in the cathedral; (9) exterior view of the Cathedral of St. Deiniol; (10) the choir and presbytery looking east with Bishop's Throne, note angels in scale in actual locations; (11) overlapping an additional exterior view of the cathedral.
Background notes: Green marbleized paper pattern is a copy of a patented design purchased in Bath, England; the cloth in the upper right corner is from the British "Union-Jack" flag; and near the bottom are representations of the official city of Bangor coat-of-arms' patches and the Bangor City Football Club enameled commemorative pin (1984 UK Champions).