Our Pastor
---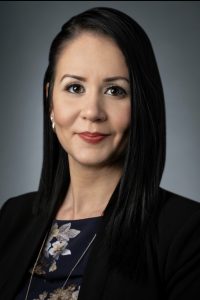 Welcome Rev. Eli Garcia: Also known as Pastor Eli (pronounced Elly) to the Senior pastoral leadership position at Bangor First UMC. Eli comes to us with (15) years of a unique and diverse pastoral experience within Eastern Pennsylvania Conference of the United Methodist Church. Her most recent appointment was from the home of the Philadelphia Eagles. Where she pastored a multicultural congregation in the Juniata Park community.
Prior to her appointment in the city she was for several years the Senior pastor of two-multi generational congregations: Summit Hill & Coaldale UMC. The city of Reading, PA also was blessed by her church planting and discipleship leadership at the Memorial Church of the Holy Cross working with both the young, aging, and diverse community, while also maintaining the life of the traditional style so many cherished. Eli also comes to us with a background from Wesley UMC, a 1,000+ member UM church in our conference, where she served as the Youth and Young Adult Pastor. The life of these churches experienced substantial growth under her leadership. Under her leadership many began inviting others into a personal relationship with God and began to live out their baptism as living examples of God's awesome love and power.
Pastor Eli comes with a strong music background, she is gifted and multi-talented. She plays full drum-set, guitar, and violin. Played basketball from an early age, granting her the Henry J Weidner award for the most courageous athlete in Dieruff High School for being star athlete in Basketball, Track & Field, Cross Country, and Softball. From training camps, and summer camps, she developed a strong sense of leadership and teamwork; recruited by her school's rivalry coach to be part of his traveling AAU Basketball team. After graduating she won back to back NCC winning state PCAA & EPAC state championship titles. She loves sports, and encourages many to do so, as it builds mental toughness, early on instills the importance of teamwork, work ethic, and respect for what everyone must bring to reach the ultimate goal.
She has also organized and participated as a keynote speaker in women's conferences, youth conferences, and young adult conferences across the country. She has a Law Enforcement degree from Lehigh Career Technical Institute. She also studied Criminal Justice at Northampton Community College. She changed her major and obtained an associate degree in General Studies. She received her Bachelor of Science in Religion with a specialization in Biblical Counseling from Liberty University in Virginia. She holds a Master of Divinity from Moravian Theological Seminary in Bethlehem; Pa. Pastor Eli is a licensed local pastor of the United Methodist church and is working towards the path of ordination. Eli was born in Ponce, Puerto Rico. She is the daughter of Angel Garcia and Sandra Negron of Garcia. She has three brothers and three sisters.
Eli will be working at First UMC of Bangor fulfilling a part-time appointment and will have the primary responsibility as the Senior Pastor. She shares that she has felt the Lord calling her into a multi-ethnic and multi-cultural community of believers. She believes in an ancient-futuristic approach to ministry. Her vision is linking all ages, all ethnic backgrounds, for the development of a church resembles the body of Christ. She desires to be part of a church ministry that helps empower men and women, children and youth in God's place of desire. Eli enjoys reading, traveling, Aerial Trapeze, playing basketball and outdoor sport activities; overall, she is one vibrant, dynamic person we welcome to our community.